The Baroque Era
When was the Baroque era? Students at the Dallas Piano Academy can tell you!
Each year the studio focuses on era of music. We discuss composers and their music, as well as other elements of that time including visual and other performing arts, architecture, important people and events. Understanding composers and their music is easier when you understand the time that they lived in, plus it is interesting and fun! 
Each year, Students have the opportunity to create an age appropriate project related to the musical history era we are studying!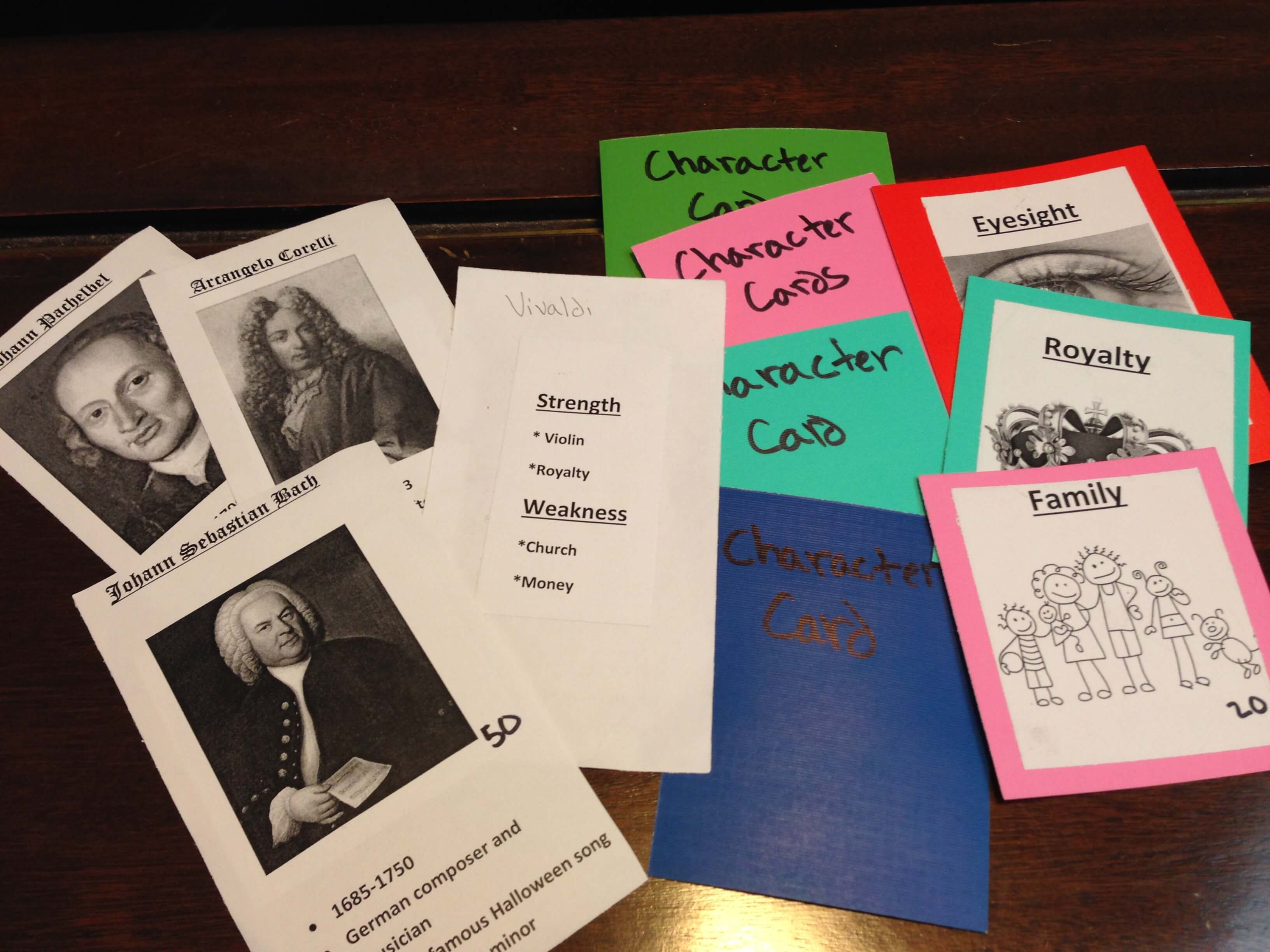 Baroque Music Composer Game made by a student at Dallas Piano Academy
 In the past, students have created fun projects related to that era such as: 
•Reading a book about a composer, and write a brief book report
•Attending a concert, and write a brief concert review
•Creating a model of a instrument using clay, legos, Popsicle sticks, paper mache, etc.
•Creating a "concert promotion poster" for a concert
•Creating a model (diorama) about a composer, period instruments, etc.
•Making a poster about a composer, musical styles, period instruments, etc.
•Creating a timeline of the period
•Learning and then making a video of a popular dance (minuet, etc.)
•Burning a CD playing era pieces
•Creating a card game (like the one pictured above), board game, or trivia game about composers, pieces, instruments, etc.

As you can see, projects can get very creative and do not have to be music related. Students have incorporated projects related to architecture, art, fashion, and important historical events of that period and in doing so can learn a lot about how music influences, and is influenced, by it's time period.

baroque Composers and their Music
The Baroque Era resources and links on this page will help music students learn more about that time period, composers and their music.
Great Books to Read about Baroque Composers

If you are looking for some great reading material check out the titles listed below about the Baroque period (these are on the AR list for those who participate in that school program).These are available from the Dallas library:
 
Antonio Vivaldi and the Baroque Tradition by Donna Getzinger and Daniel Felsenfeld

Johann Sebastian Bach and the Art of Baroque Music by Donna Getzinger and Daniel Felsenfeld
 
For younger readers:
George Handel by Mike Venezia
Johann Sebastian Bach by Mike Venezia

Photos of Baroque Instruments
http://www.classicfm.com/instruments/beautiful-musical-instruments-baroque/



Listen to the Bach Toccata and Fugue in d minor
https://www.youtube.com/watch?v=F4JQZb83oCc (you can watch it being played)

https://www.youtube.com/watch?v=ipzR9bhei_o (you can watch a visual bar graph of the music at is it played)



Baroque Music
This book is an excellent style guide for playing music of this time period, geared to advanced players: The Rules of Musical Interpretation in the Baroque Era by Jean-Claude Veilhan.

Baroque Architecture: Palace of Versailles
Link to the webpage for the Palace
IT'S EASY TO TAKE THE FIRST STEP.

Ready to start? You have nothing to lose.
Sign up is easy and parent-friendly, and we are ready to serve you. Because we only offer lessons on a month-to-month basis, there are no large upfront payments, no complicated contracts, no start-up materials, no performance fees, and no semester minimums.
Call or Text 214.343.4804
Lessons are first come, first serve, so contact us today to arrange your first lesson!
PRICING 
$40.00 / 30 minutes

Lessons are available five days a week, and scheduled once a week. A registration fee is due annually.