piano lessons at dallas piano academy
Private piano lessons at our music academy are offered for ages 5 through adult. Whether you aspire to play Bach or Billy Joel, our dedicated music lesson instructors will help you become the pianist you want to be! Our faculty will introduce you to the fundamentals of sight reading, technique and theory, and when ready will incorporate your favorite songs into your lessons. 
Piano is a wonderful first instrument because it encompasses music theory that can be applied to all other instruments. No matter how long a person studies piano, students acquire musical skills and knowledge that will benefit them if they pursue a different musical instrument a later time.
What's the number one reason to choose the academy? 
Our piano instructors are warm and friendly, and get to know each student and parent on a personal level.
We work with each individual student to craft a lesson plan that fits the student's unique needs and helps them reach their goals of playing their favorite type of music.
Whether you're taking your first lesson or returning to the piano after many years, our teachers will share their love for the piano and help you set goals to achieve your musical aspirations.
do you teach adult piano to beginners? 
We love adult beginners and have a large adult piano lesson division! No previous experience is necessary.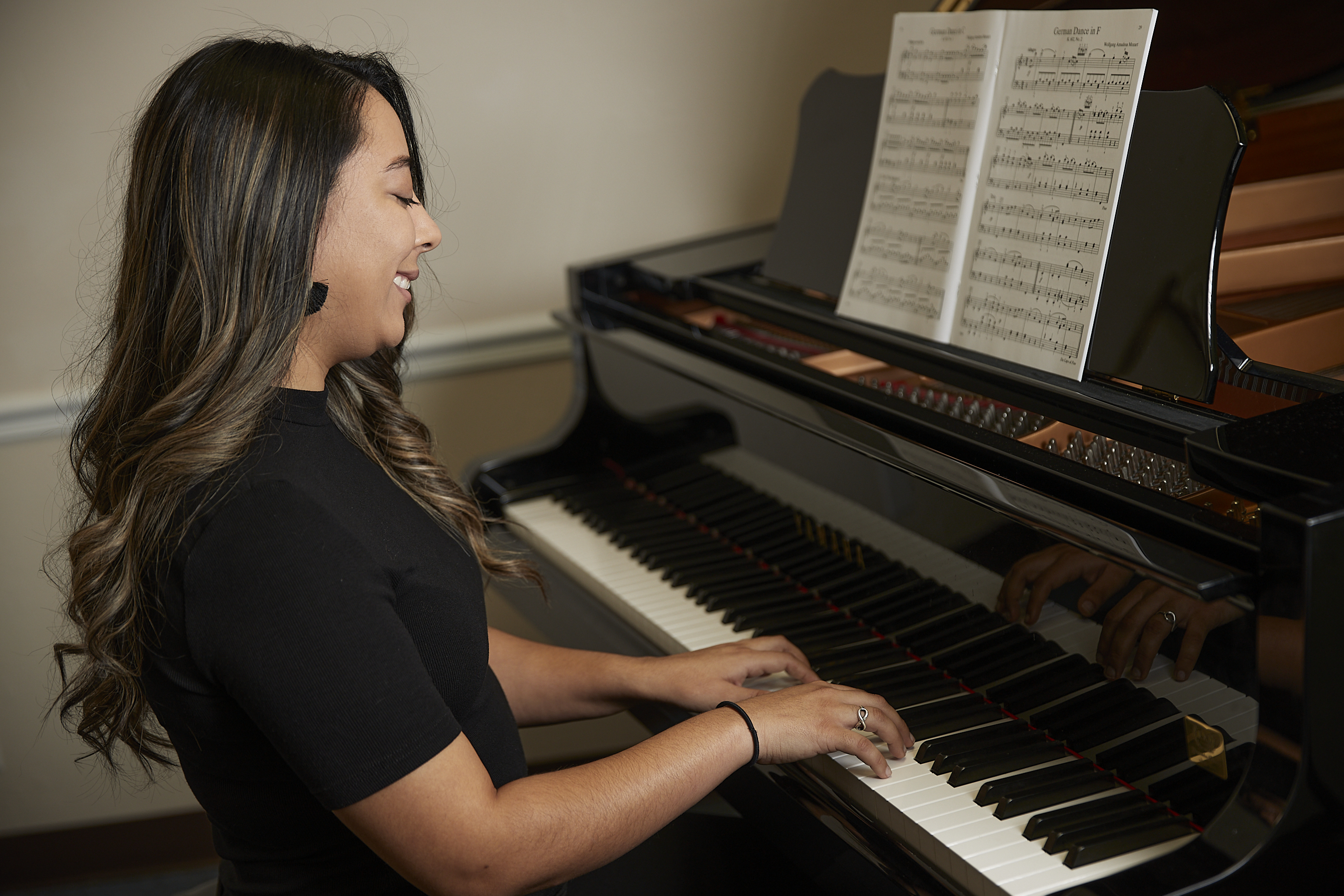 do i need to commit to lessons for a specific period of time? 
No, all of our lessons are month-to-month. Simply let us know by the 15th of your last month that you are discontinuing lessons and we will halt charges to your account for the next month. It is easy to give lessons a try without a long term commitment. 
do i need to have a piano at home? 
You need an instrument, but you do not need a piano at home to take lessons. A simple full size electronic keyboard will suffice for the first 6 months. It's very inexpensive to start piano. You can get a keyboard, stand and stool at from many online retailers and may even have a friend who has one available for you to borrow. You can also visit local piano stores that have pianos for rent, sale and rent-to-own.
do you have recitals? 
Absolutely! Our students have the opportunity to sign up to perform in recital on beautiful Steinway and Yamaha pianos. Unlike most of our competitors, we do not charge students a fee to perform. And admission is free, so you can invite all of your family and friends. From time to time we also participate in community events that showcase our students. 
More music lessons available at dallas piano academy
Dallas Piano Academy, we offer more than piano lessons! We are proud to offer many popular instruments with expert faculty. This makes it convenient for students who wish to study more than one instrument, or for siblings within a family who want to pursue different instruments.

Contact us for more info about: 
IT'S EASY TO TAKE THE FIRST STEP.

Ready to start? You have nothing to lose.
Sign up is easy and parent-friendly, and we are ready to serve you. Because we only offer lessons on a month-to-month basis, there are no large upfront payments, no complicated contracts, no start-up materials, no performance fees, and no semester minimums.
Call or Text 214.343.4804
Lessons are first come, first serve, so contact us today to arrange your first lesson!
PRICING 
$40.00 / 30 minutes

Lessons are available five days a week, and scheduled once a week. A registration fee is due annually.