Lessons Offered by
dallas piano academy
Every lesson at Dallas Piano Academy is planned to bring out the best in every student! Curriculum is customized for every student, based on each individual's learning style and personal goals. 

All sessions include instruction in theory, proper technique and literature -  from folk songs to classical to popular. As students progress, we incorporate things they want to play into our studies as additional learning opportunities. Studies also include music history and appreciation for different musical styles to create well-rounded musicians and life-long supporters of music and the arts.
Our students come from Lake Highlands, Lakewood, Lochwood, as well as other neighborhoods across Dallas and the surrounding areas. Lessons are also available online! Visit Dallas Piano Academy for piano lessons in Dallas that will introduce the love of music to you and your family!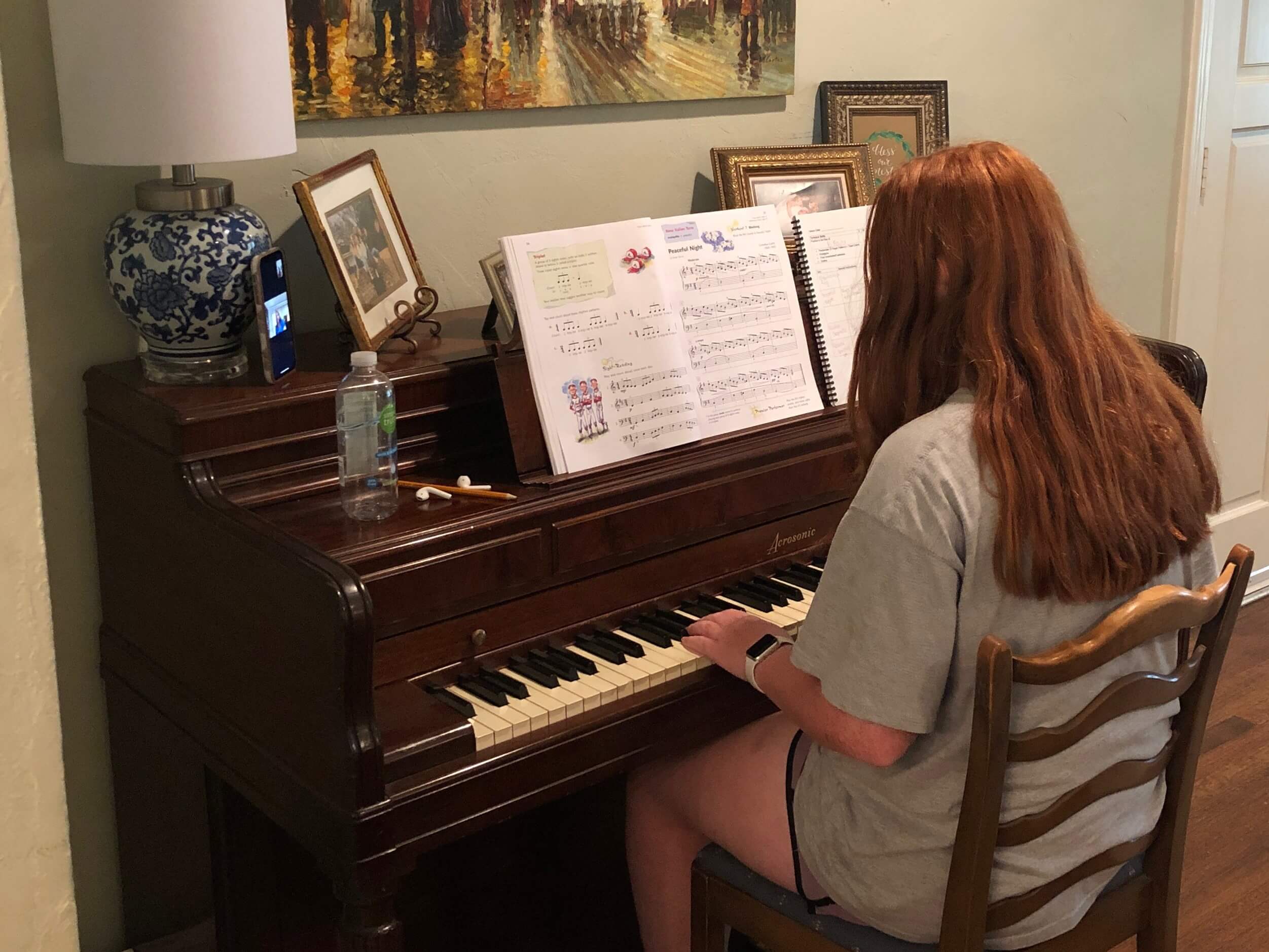 ---
Current offerings for lessons:


Lessons are offered on a first come, first served basis! The studio is often full, so don't delay contacting us to start your lessons today!   
♪ Private Piano Lessons
Private piano is offered for ages 5 thru adult at Dallas Piano Academy. For an added fee, piano lessons can come to you and be taught in your home. 
---
♪ Private Voice Lessons
Private voice is offered for ages 5 thru adult at Dallas Piano Academy. With our convenient month-to-month lessons, you aren't locked into a long term contract. This is perfect for those who like to work with a vocal coach to help prepare for an audition or a special performance. 
---
♪ Private Guitar Lessons
Private guitar is offered at Dallas Piano Academy for ages 5 thru adult at all levels and abilities.
More info about Guitar Lessons
---
♪ Online Piano Lessons
Online piano lessons live from Dallas, Texas are offered for all ages and abilities. Take advantage of the opportunity to study in the privacy of your own home, virtually! Online lessons work great and are very popular with students and their families! 
online piano lessons available! 
While you're stuck at home, online music lessons are a safe social distancing activity for kids and adults! ZOOM into our music school for your lesson from the safety and comfort of your home!
Online piano lessons are an easy way to bring some fun and learning into your life! 
---
♪ Private Flute Lessons
Flute instruction is available for flutists of all levels, from beginner thru advanced. 
---
♪ Preschool and Kindergarten Music
Enriching music opportunities for early childhood students are offered as either private or small group lessons. Young children love music! 

   Exploring Music for Preschoolers - (Preschool Age)
   Pre-Piano Music Fundamentals (Kindergarten Age)
   Beginner Piano (Kindergarten Age)
There are lots of things to consider when enrolling a young child in piano or music lessons. Visit our preschool page to learn more! 
---
♪ Summer Music Fun
Summer music camps, offered in Dallas, Texas, are available for students of all levels, and are customized to the age, level, interests and needs of the students enrolled. Summer is a great time of year to start something new, and new private piano students are also accepted during the summer (and year-round!) based on space availability. 
---
♪ Other instruments
Looking for music lessons other than what is listed here? Just ask! We may have a teacher who can help you! If not, we'll try to refer you to someone who can teach the instrument you'd like to learn. 

IT'S EASY TO TAKE THE FIRST STEP.

Ready to start? You have nothing to lose.
Sign up is easy and parent-friendly, and we are ready seven days a week to serve you. Because we only offer lessons on a month-to-month basis, there are no large upfront payments, no complicated contracts, no material or performance fees, and no semester minimums.
Lessons are first come, first serve, so contact us today to arrange your first lesson!
PRICING 
$37.50 / 30 minutes

Lessons are available seven days a week, and scheduled once a week. A registration fee is due annually.

Contact Emmick Music Studio for
more info about Music Lessons