Meet Lisa Emmick
Lisa Emmick's musical accomplishments include competition awards, scholarships  and performance honors. Her solo and collaborative performances have been broadcast on radio, television and via the internet across the United States and around the world.
Piano and flute performance experience includes all types of music – from classical… to praise and worship… to popular and country – even playing good ol' Texas fiddle music on the flute!

Music Studies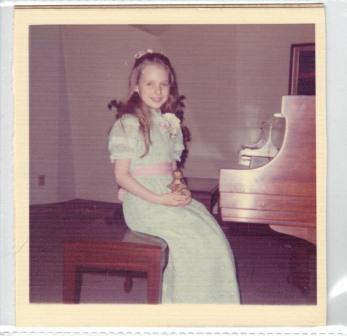 Age 9 at a piano recital
Lisa Emmick began piano studies at the age of five in her mother's music studio. She enjoyed participating and winning numerous awards in studio competitions and performing at every opportunity. At the age of twelve, she began playing the flute and soon added the piccolo as well.
For the next ten years, Mrs. Emmick's private studies continued with Alexander Fielder. Mr. Fielder was Dallas Symphony soloist for twenty-five years and student of William Kincaid, regarded as the Father of the American Flute School. 
Mrs. Emmick holds a BBA degree from Southern Methodist University. Throughout the year she attends conventions, workshops, masterclasses and other presentations related to music teaching and performance.
As a Musician
Various performance stages include performing on the Johnnie High Country Music Review, the Weatherford Opry, the Joyful Praise show, countless churches, festivals, community events, weddings and solo recitals. She has also served as an accompanist, as well as a part of ensembles and orchestral groups in both live settings and in the recording studio.
Mrs. Emmick has been included in the publication International Who's Who in Music and Musician's Directory.
In other Performing Arts
In addition to Mrs. Emmick's musical pursuits, she has been involved with the stage since the age of three. As a student, she studied dance with Texie Waterman, founder of the Dallas Cowboys Cheerleaders, as well as the esteemed Etgen-Atkinson School of Ballet. She also studied theater and performed in plays and musicals, earning membership in the International Society of Thespians.
Mrs. Emmick has participated in stage productions in every area - as an actor/performer, director, stage crew, properties and set design and construction, as a backstage manager and as house manager, and has costumed hundreds of performers. Her organizational skills have kept productions running smoothly and efficiently.

Helping others develop their performance skills, Mrs. Emmick has had the opportunity to judge various performance competitions as well as several pageants, serving as head judge for many of these panels. She knows first-hand what is necessary to please both an audience and a judging panel, having participated in the Miss Texas (Miss America) Scholarship Pageant system and winning numerous talent awards.
Lisa Emmick Today
Today, Lisa Emmick primarily concentrates on teaching and maintains a very busy private studio in Dallas, Texas.

Her piano and flute students have earned awards and placement in festival and auditioned competitions. Former students have earned degrees in music, gone on to become professional musicians, or have found other ways to incorporate music into their lives by playing in their churches and communities. Her varied teaching experience includes private lessons, summer music camps, and even serving as a band director, helping students on many different instruments grow as musicians.  
Since 1980, when she began teaching private piano and flute lessons, Mrs. Emmick has led numerous students of all ages to love, appreciate and proficiently play music, teaching specifically to the needs and goals of each student.

Mrs. Emmick also directs a high school theater program at a local private school and loves to travel, study history, and spend time with her family and pets.  


Check out this interview with Lisa Emmick of Dallas Piano Academy on wearedallasfortworth.com 

Professional Affiliations:
Professional Affiliations include:
American College of Musicians/National Guild of Piano Teachers
Dallas Music Teachers Association
Texas Music Teachers Association
Music Teachers National Association
Texas Federation of Music Clubs
National Federation of Music Clubs
Texas Flute Society
National Flute Association
International  Society of Thespians Troupe Director
International Society of Thespians Alumni
SMU Cox Alumni Association
SMU Alumni Association
Testimonials from Parents and Students

IT'S EASY TO TAKE THE FIRST STEP.

Ready to start? You have nothing to lose.
Sign up is easy and parent-friendly, and we are ready to serve you. Because we only offer lessons on a month-to-month basis, there are no large upfront payments, no complicated contracts, no start-up materials, no performance fees, and no semester minimums.
Call or Text 214.343.4804
Lessons are first come, first serve, so contact us today to arrange your first lesson!
PRICING 
$40.00 / 30 minutes

Lessons are available five days a week, and scheduled once a week. A registration fee is due annually.