October 2020 Newsletter
The October 2020 Newsletter is here! We're often asked about how to encourage students to practice piano or their instrument. One idea is to create a "practice nest" - an inviting, creative space that will be a welcoming and favorite place for your musician to visit. Read below about how to make this a great addition to your home.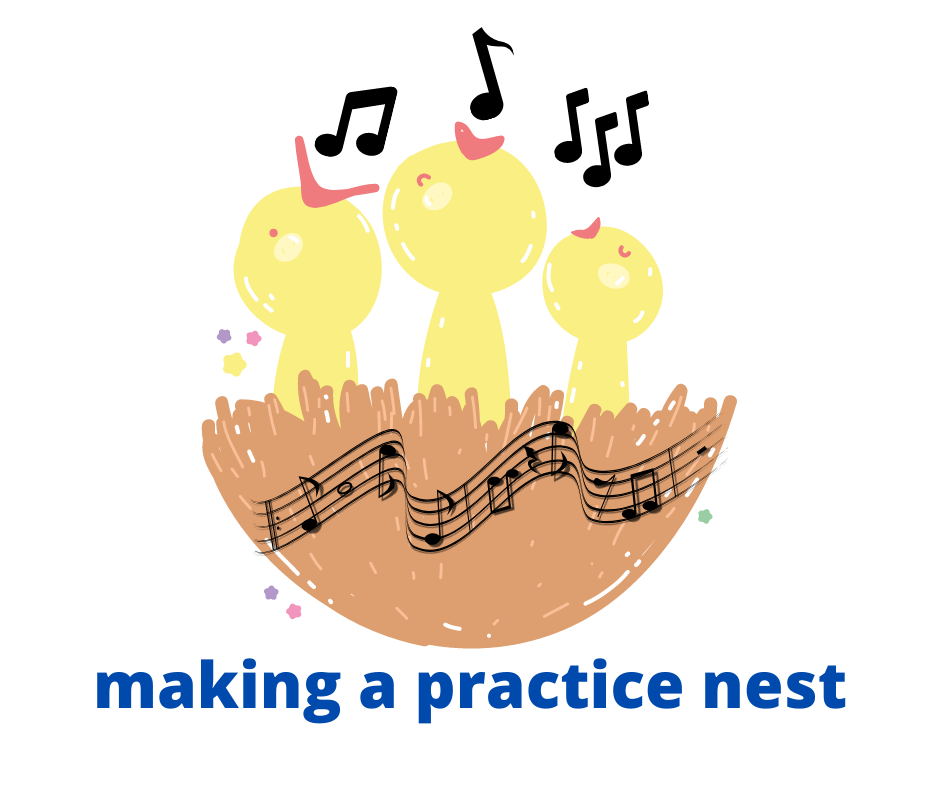 Creating a "practice nest"
The term "nest" is often used when talking about interior home design – meaning a home environment that is comfortable and personalized to what the inhabitant loves. What about creating a "practice nest?" Here are some ideas on how to create an place that is conducive to regular and enjoyable home practice.
Choose the perfect location. Try to find a location that is lived-in, welcoming, and well-lit. The ideal place is a room that is in a central location, but also can give some privacy. If the instrument is in the "middle of everything," the student may not be able to focus as well. Consider the noise factor, not only from the instrument, but from the family's other activities.
Make the space warm and welcoming. Your children will be encouraged to spend time every day in this space. Is it a happy place to be for this amount of time? Small adjustments to lighting and heating can make a world of difference. Seek out places with natural light and ensure it is a cheerful and welcoming space that will encourage your child to play often for their own enjoyment.
Keep all required materials at hand. Use a small basket or bin to keep pens, pencils, highlighters, and post-it notes handy. This will give them a sense of organization that will then spill over into their practice habits. Find a place for books and materials to go immediately after each lesson so they are ready and waiting for practice. Adequate lighting and a comfortable bench at the correct height are important too!
Visit often. Students of any age appreciate company while they practice. Having a place nearby to sit, listen and enjoy the music immediately sets the tone for a happy time. Allow yourself a few minutes to sit and listen with undivided attention often to provide encouragement (leave correction to the teacher!
Add special touches. Occasionally surprise your student with something left in their practice nest to show that you value the time they are spending with their instrument and that you appreciate their efforts and dedication. Suggestions might be a note of encouragement, a treat, stickers or something else they will enjoy. Preserving the "specialness" of their practice space encourages positive feelings towards their home music time. 
Thanks to teachpianotoday.com for inspiration for this article for our October 2020 newsletter. 
Student spotlight for October 2020 newsletter
Welcome to these new students who are now taking lessons at Dallas Piano Academy!
Chris
Drew
Vaughn

SHOUT OUTS AND THANK YOUS
We'd love to take time in this October 2020 newsletter for a few shout outs and thank yous.
Number one to our students. Thank you, thank you, thank you students for being with us during this very unusual time!
A big shout out to Leigh. She's starting her 4th year of helping keep all the bookkeeping organized. She's a rock star!
Also a BIG THANK YOU to everybody for your referrals and reviews. A big measure of our success is when you tell others about what we do!
Here's to making music, in person or online (your choice) at Dallas Piano Academy! 

Lesson Options
We're continuing to teach lessons in person, online, and some students are choosing a mix of both. The Covid safeguards in place for lessons seem to be going well. As a reminder, we offer early lesson times! So if you're on a hybrid schedule, flex schedule, and would like to move your lesson time to something more convenient, just let us know. We'd love to talk to you about options for your lesson. 
Thanks for referring your friends in the White Rock Lake area of Northeast Dallas to us. We have students taking piano lessons with us who live in Lake Highlands, Casa Linda, Lakewood, Lochwood, Richardson, Garland, Carrollton, Uptown and Highland Park! Online lessons allow us to give lessons to students across the USA and beyond! 
Thanks for reading the October 2020 Newsletter of Dallas Piano Academy portions that we are sharing online! We are here to help you realize your music dreams, and make piano lessons both fun AND productive! See you at the keyboard! 
IT'S EASY TO TAKE THE FIRST STEP.

Ready to start? You have nothing to lose.
Sign up is easy and parent-friendly, and we are ready to serve you. Because we only offer lessons on a month-to-month basis, there are no large upfront payments, no complicated contracts, no start-up materials, no performance fees, and no semester minimums.
Call or Text 214.343.4804
Lessons are first come, first serve, so contact us today to arrange your first lesson!
PRICING 
$40.00 / 30 minutes

Lessons are available five days a week, and scheduled once a week. A registration fee is due annually.