summer at dallas piano academy
Dallas Piano Academy's Summer Camps have been nominated as a BEST IN DFW for 2023!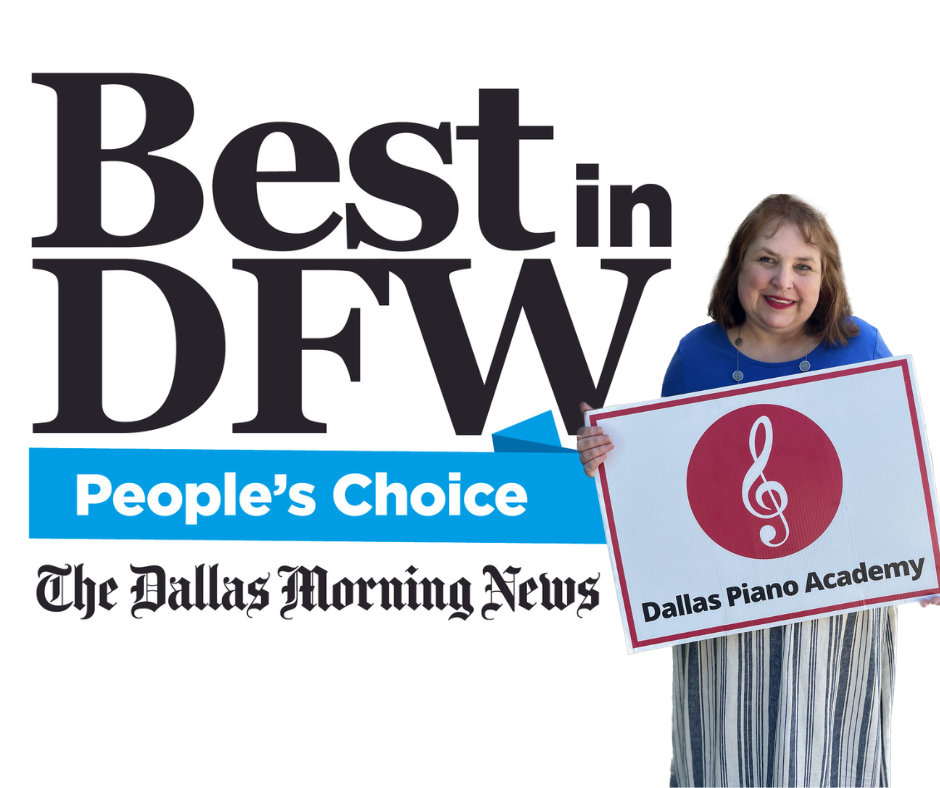 "Our 2 daughters loved everyday of the Musical Theater summer camp and amazingly performed 3 songs/dances on the 4th day. We plan to return in the future!" - C.B.
Summer is a great time to study music! Without homework and other conflicts found during the school year, students can often make rapid progress. Even if you don't have time for regular weekly lessons, there are lots of options for getting the most out of your enrollment in Dallas Piano Academy! 
We are excited to be offering camps in addition to our private lessons! There are offerings for current students and non-students too!
ENROLLMENT INFO: VIP Camp Registration will open to current students and their families on Monday, March 20th at noon, and then open to everyone on Wednesday, March 22nd! SEE REGISTRATION FORM BELOW.  Scroll down for camp descriptions.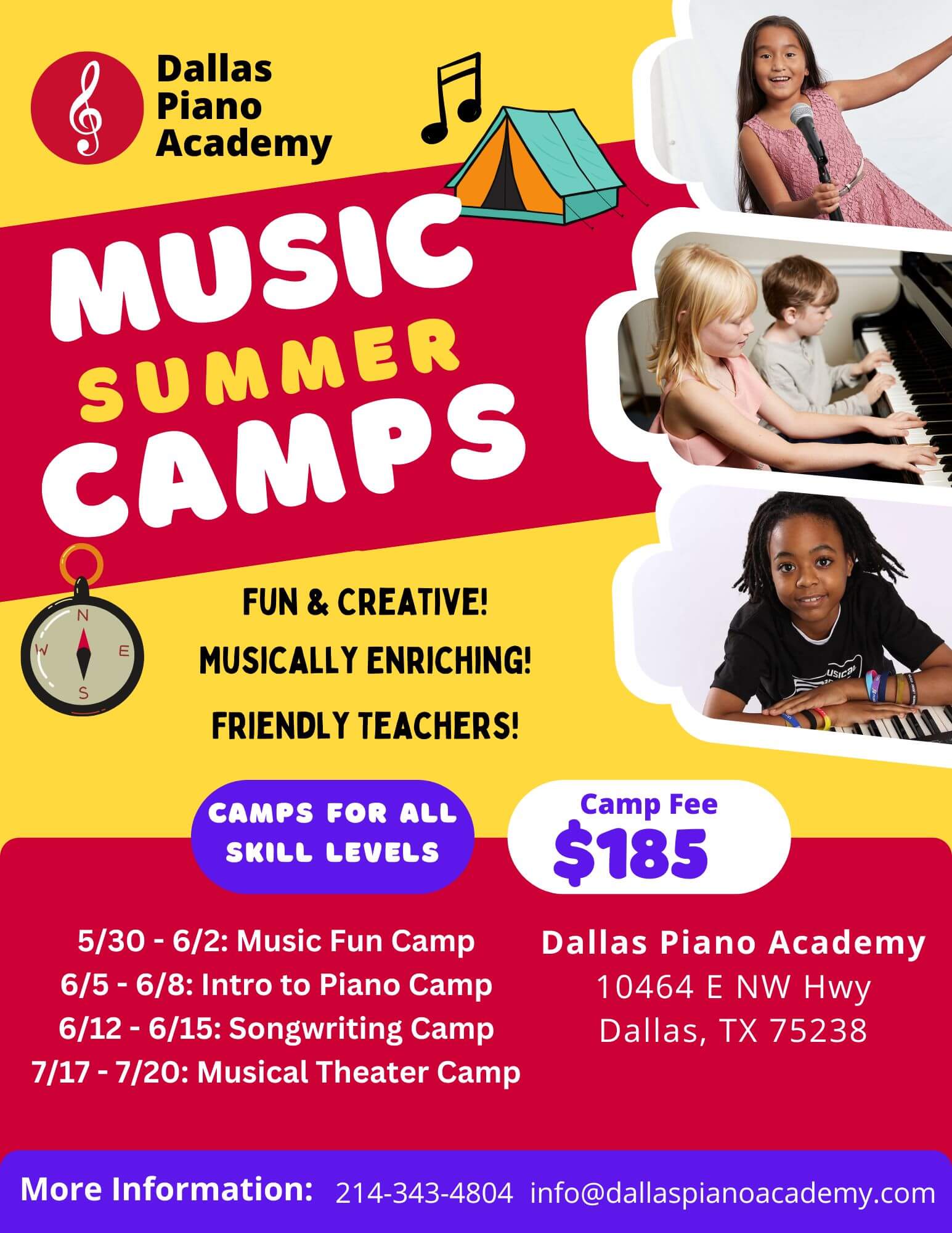 music fun camp
THIS CAMP HAS ALREADY OCCURED
If you love our group lessons, you'll love this opportunity to learn music theory, music history and all things music in a fun and interactive way with activities and games for dynamic learning! Materials will be customized for students attending to ensure progress in their skills and knowledge on their chosen instrument! For students taking music lessons currently (all levels), either at Dallas Piano Academy or elsewhere.  Ages 6 - 10. 
---
intro to piano camp
THIS CAMP HAS ALREADY OCCURED

Learn basic piano techniques, rhythm, listening skills and improvisation. Fun, interactive games and activities give a great introduction to creating music at the piano! No prior experience needed. Ages 6 - 8. 
---
Songwriting Camp
THIS CAMP HAS ALREADY OCCURED
Want to be a composer? This is a fun, creative camp designed to inspire and equip students to compose their own music. Students will leave camp knowing how to make a piece of music reflect its title, use motives, organize a piece using a form, and much more. This camp is full of music listening, music making and music composing. For students taking lessons currently, either at Dallas Piano Academy or elsewhere.  Ages 6 - 10. 
---
musical theatre camp
THIS CAMP HAS ALREADY OCCURED
Sing, dance and act out highlights from favorite Broadway musicals! Play fun theatre games and learn vocal warm-ups, choreography, stage blocking and character development! No prior experience needed. Ages 8 - 12. 
---
Please note that camp registrations are processed in order received and are first come, first served. In the event a camp is full, you will be placed on the waiting list. Refunds are only available if we are not able to offer camp to you because it is full or cancelled. To be placed on the waiting list for a camp, please contact us at info@dallaspianoacademy.com or 214.343.4804 call/text.
---
private lessons in the summer
Private lessons continue in the summer! Students continue to have the same "standing" lesson time each week. Going to be out of town? In town, but no time for lessons? There are lots of options! Please contact the office and we'll fill you in so you can select what works best for you!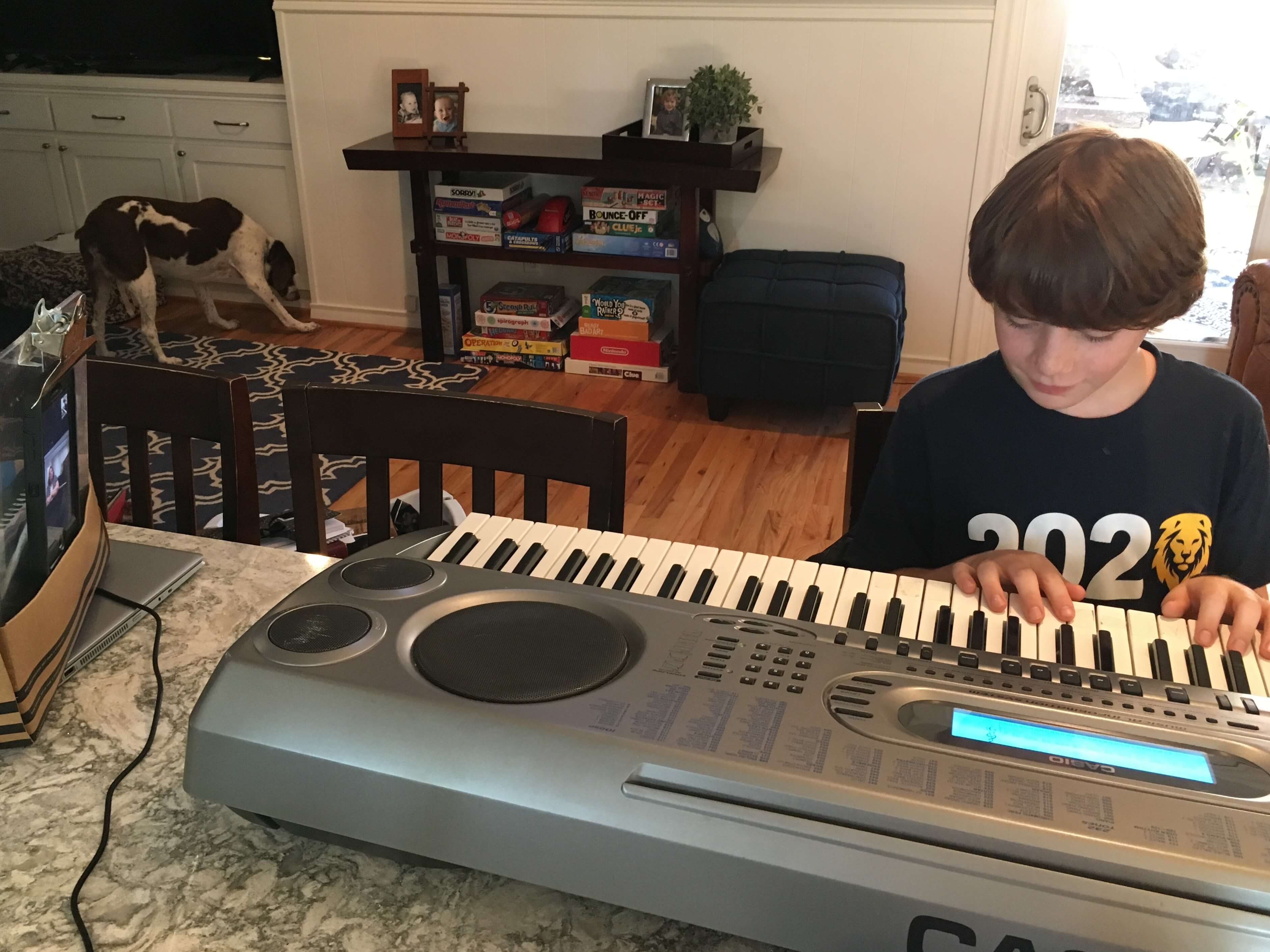 IT'S EASY TO TAKE THE FIRST STEP.

Ready to start? You have nothing to lose.
Sign up is easy and parent-friendly, and we are ready to serve you. Because we only offer lessons on a month-to-month basis, there are no large upfront payments, no complicated contracts, no start-up materials, no performance fees, and no semester minimums.
Call or Text 214.343.4804
Lessons are first come, first serve, so contact us today to arrange your first lesson!
PRICING 
$40.00 / 30 minutes

Lessons are available five days a week, and scheduled once a week. A registration fee is due annually.